Yap Siu Yan
Available :

Tuesday
Standard :

Classical Piano
Senior :

Percussion
Lessons via :

Face2Face & Online
Percussionist Yap Siu Yan has been an active performer in Malaysia, Singapore and the United States of America since 2009. She has performed in professional ensembles such as the Malaysian Philharmonic Orchestra (MPO), Westmoreland Symphony Orchestra, Resonance Works Opera, Singapore Symphony Orchestra (SSO) & the National Symphony Orchestra of Malaysia (NSO).
Siu Yan enjoys exploring music with unlimited possibilities. Being a percussionist allows her to experiment with various kinds of instruments, sometimes unconventional instruments like paper, suitcases & duct tape. She also enjoys playing traditional percussion instruments such as the many types of Gamelan & Kulintang from Southeast Asia.
Read More
As an active percussionist in Malaysia, Siu Yan is involved in the first Malaysia Percussion Festival (2017) as one of the music directors to the festival ensemble. In September 2017, she also did a piano-percussion duo recital entitled "Earth. Our Love. Our Home" to help raise awareness of environmental issues in partnership with the World Wildlife Fund Malaysia.
Besides performing, Siu Yan loves to teach too. She currently serves as the Mallet Percussion Lecturer of the University Pendidikan Sultan Idris, Tanjong Malim, Perak. Back in 2016, She started the percussion ensemble without using any instrument in the Malaysian Institute of Art. Siu Yan completed her Master Degree in Carnegie Mellon School of Music in the studio of Chris Allen (Assistant Timpani/ Associate Principal Percussion of the Pittsburgh Symphony Orchestra), Jeremy Branson (Associate Principal Percussion of the Pittsburgh Symphony Orchestra) & Paul Evans (Emeritus Section Percussion of the River City Brass Band at Pittsburgh USA). She did her undergraduate study in the Yong Siew Toh Conservatory of Music (YSTCM), National University of Singapore in the studio of Jonathan Fox (Principal Percussion of the Singapore Symphony Orchestra).
Siu Yan also did a semester of exchange in the Peabody School of Music, where she focused on early music & contemporary music on marimba with marimbist Robert van Sice. She completed her Diploma of Music in the Malaysian Institute of Art back in 2007. Siu Yan studied under Paul Philbert (Principal Timpani of the Opera North, UK) when she joined the Malaysian Philharmonic Youth Orchestra in 2007.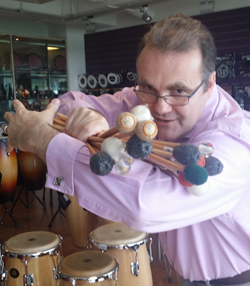 Kevin Field
Available :

Wednesday, Thursday, Friday, Saturday & Sunday
Director :

Percussion, Conducting & Theory
Lessons via :

Face2Face & Online
Kevin's eclectic performance experience as an orchestral percussionist is reflected in his 'shuffle list': Radiohead, Red Hot Chili Peppers, Dave Matthews Band, as well as great swing band drummers like Buddy Rich and Louie Bellson, jazz legends Miles Davis, Chic Corea and Gary Burton alongside performances of great orchestral music with the Philharmonia, Berlin Philharmonic and the Chicago Symphony.
Kevin is an international independent conductor and, before moving to Malaysia in 1999, BMA's Director of Academic and Artistic Development was Sub-Principal Percussionist with the Bournemouth Symphony Orchestra, the UK's oldest and most established provincial professional orchestra. Kevin was a student at the Royal Academy of Music, London when American conductor, Andrew Litton appointed him to the BSO, and it was with the BSO that Kevin toured the USA twice, Europe on numerous occasions, recorded hundreds of CDs and performed more than one thousand two hundred concerts over a nine-year period.
Read More
Prior to working with the BSO, Kevin studied with Douglas Milne at the Birmingham School of Music where he was subsequently invited to perform with the City of Birmingham Symphony Orchestra making his professional debut as a first year student with Simon Rattle conducting. Later Kevin studied with Stephen Quigley and Nicholas Cole at the Royal Academy of Music, London, where he graduated with first class honours.
Kevin later went to work with the Ballet Rambert, Saddlers Wells Royal Ballet, The Orchestra of the Bolshoi Theatre and the Royal Philharmonic Orchestra, before joining the BSO. With pianists Nettle & Markham, Kevin frequently performed the chamber version of Bartok's Sonata for Two Pianos and Percussion, as well as Panufnik's Concertino for Timpani, Percussion and Strings.
All of Kevin's students can expect to work on the fundamentals of time and pulse whilst studying elementary to advanced rudiments, covering stick control, dexterity and independence across all orchestral percussion instruments including timpani, snare drum, drum kit and mallet instruments as well as an in-depth study of tambourine, triangle, cymbals and bass drum, thus gaining an experienced insight in to the symphonic repertoire.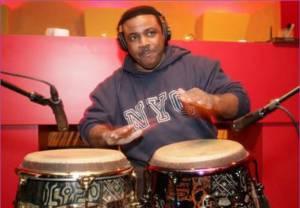 Steve Thornton
Master :

Percussion
Born in and raised in Brooklyn, New York, Steve is the second youngest of fourteen children. At the tender age of seven, Steve heard Mongo Santamaria playing Herbie Hancock's "Watermelon Man". He was so inspired by the legendary drummer that he taught himself to play the congas by listening to the album over and over again.
In 1968, Steve formed his first group, THE YOUNG EXPLOSIVES, a 4 piece Latin-jazz ensemble. They performed on local television station Channel 5's "Inside Bedford-Stuyvesant" and appeared in school talent shows and at the Appollo Theatre.
Read More
In 1969, Steve met Mongo Santamaria at Club Beacon on 111 Street and Lennox Avenue. When he told Mongo how much he admired him, Mongo challenged Steve to play congas with his band. When fifteen year old Steve started wailing away on three congas, Mongo got so excited he sat with him and they played out the entire set together. For Steve, it was a dream come true.
Throughout high school, Steve performed with his band and recorded salsa with other local bands, but his first professional appearance was with Jon Lucien's 1972 national tour. Since that auspicious beginning, Steve has played non-stop with some of the best in the business. He played for the Brazilian band of pianist Dom Salvador and percussionist Dom Um Romaoand than went on to become the conga player for Harry Belafonte. He worked for Harry for four years, appearing on his record, T.V. shows and tours.
Norman Connors introduced Steve to jazz. Never one to set still, Steve has since performed live and made recordings with some of the most well-known jazz artist in the world, including Miles Davis, Dizzy Gillespie, Roy Ayers, Grover Washington Jr., McCoy Tyner, Herbie Hancock, SadaoWatanabe, Tania Maria and David Sanborn.
Latin, Jazz, R&B, Brazilian and African music have all felt the magic of Steve's touch. They have also deeply influenced him. Steve is now arranging, composing and producing his own blend of music, incorporating and expanding on everything he has learned in his musical sojourn. His rich, multi-layered music has a unique sound, backed by the most contagious, uplifting beats to which you'll ever move your feet.
In Malaysia Steve Thornton has produced shows for NTV 7 and has performed and recorded for such artist as SitiNurhaliza, Raihan, Zainal Abidin, RoslanAziz, Sheila Majid , Fish Leong and many more.