Violinist Mabel Wong is an active performer and educator in Malaysia. She has been involved in a wide range of professional projects, from chamber music and orchestral playing to education at both pre-tertiary and tertiary levels. She has performed with Ensemble Virama, Malaysia Bach Festival, Selangor Symphony Orchestra, Kamerata KL, Kuala Lumpur City Opera, Yin Qi, Attune and Wicked Music People. She was also invited to present at the JB Classical Music Festival and ABRSM Teacher Conference in 2018 and 2019.
With over 15 years of teaching experience, Mabel is a sought-after violin educator known for her passion and dedication in the field. Her pedagogical approach to violin teaching is based on building a strong foundation in violin technique which focuses on relaxation and flexibility. She also emphasizes on ensemble playing skills during her lessons and strongly encourages her students to perform regularly.
Read More
Mabel is currently the String Faculty Coordinator at Bentley Music Academy and adjunct lecturer at Sunway University. She is also part of trio, consisting of violist Dr. Andrew Filmer and pianist Robin Lee, with whom she also co-authored a peer-reviewed research article published in the Australia and New Zealand Viola Society Journal.
Mabel graduated with a Bachelor of Music at the University of Otago in 2012 and a Master of Music Studies at Sydney Conservatorium of Music in 2014. She won numerous awards and prizes during her studies, including the Sydney Achievers International Scholarship, Alice Kirscher Prize, the Lilburn Memorial Prize, and the Ida G. White Memorial Prize in Music.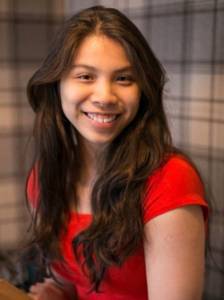 Kelly Leong started learning the piano at age 5 under the tutelage of Kang Hong Ai and Loo Bang Hean and then violin at the age of 10 under the tutelage of Yeong Chin Phang and Andrew Chye. She obtained ATCL and LTCL certifications for both violin and piano before completing her BMus Hons and Mmus in violin performance under Simon Smith and Susanne Stanzeleit. Kelly also won second prize in the Malaysian Youth Orchestra Foundation competition and has appeared as a soloist with SKOC orchestra. She is also an active orchestral musician, having been a member of CBSO Youth and often performed with the Conservatoire Symphony Orchestra in prestigious venues like Symphony Hall and Town Hall under the baton of Michael Seal and Mirga Gražinytė-Tyla- the most recent project being the RBC Royal Opening Gala which was broadcasted on BBC Radio 3. Other orchestras she has participated in include the Selangor Kuala Lumpur Orchestra and Choir and the Selangor Philharmonic Orchestra.
As a versatile chamber musician, Kelly has formed various chamber music groups and organised concerts at various venues in Birmingham such as the Alexandra Theatre and Cardiff Canton Uniting Church. Recent performances include Brahms horn trio, Piazzolla's Four Seasons for string trio and Faure's Piano Quartet No.2 and has performed in masterclasses conducted by Leland Chen, Tamsin Wales-Cohen and the Schubert Ensemble. She is also passionate in community engagement, and conducted workshops for the residents at Sunrise Care Home and stroke patients as well as paediatric patients at Derby Hospital.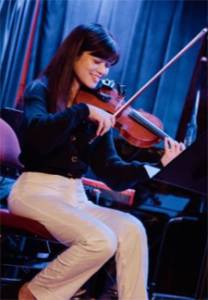 Nisa Addina is a contemporary violinist, composer and producer born and raised in the city of Kuching, Sarawak, Malaysia. She represents Sarawak and its culture through her music, having played various differing styles from Classical, RnB, Pop and Jazz to a broad audience in various parts of Malaysia and the world.
Nisa holds an Associate Performer Diploma in Violin from ANZCA (Australian and New Zealand Cultural Arts Limited) and an Associate Diploma in Violin Performance from IMEB (International Music Examinations Board) is a former student at International College of Music (ICOM) under the Berklee Transfer Program in Kuala Lumpur. Nisa graduated from Berklee College of Music , Boston Massachusetts USA with a Double Major Degree in Performance and Contemporary Writing & Production (CWP).
While studying in Berklee College of Music, Nisa performed with various artists and groups and recorded many compositions and arrangements. She has gained experience from recording techniques to jazz vocabulary including a debut EP "Yakina" produced by Syafiee Obe and an album dedicated to the Malaysian music icon, Tan Sri P Ramlee produced by Malaysian Berklee Alumni Helen Yap, featuring productions by Aubrey Suwito, Jenny Chin and Azlan Abu Hassan.
Read More
Nisa Addina emerged as the Junior Grand Champion in the instrumentalist category at the World Championships of Performing Arts in Los Angeles, California in 2011, a first by a Malaysian which earn her a place in Malaysian Book of Records. She has also played with the Permata Seni Music (PSM) ensemble of Istana Budaya from 2010-2011 under the tutelage of principal conductor Mr Mustafa Fuzer Nawi.
Some of her other achievements and milestones include, youngest representative of Malaysia to the World Islamic Economic Forum (WIEF), 4th Marketplace of Creative Arts (MOCAFEST) in Bandung, 2012; featured in 'Sarawak Women in the Arts' book published in 2015 -Featured in "Top 10 of Malaysia" magazine 2012; the Youngest representative of Malaysia to the World Islamic Economic Forum (WIEF), 5th Marketplace of Creative Arts (MOCAFEST) in Johor, 2012.
Her Tan Sri P. Ramlee tribute album was featured on Malaysia Airlines flights in 2019.
Some of her notable performances include, Kuching Waterfront Jazz Festival 27th to 28th September 2019; performed a "Game of Thrones Medley" in the orchestra during the 2019 Berklee Alumni Awards for Game of Thrones composer Ramin Djawadi; performed in the orchestra with Jacob Collier at MIT: Djesse Vol.1 Album Release concert; Berklee US-China Summit Concert feat. Tia Ray; launch of Asean International Film Festival Awards (AIFFA) 2013 -Global Women Summit 2013 dinner at Istana Negara.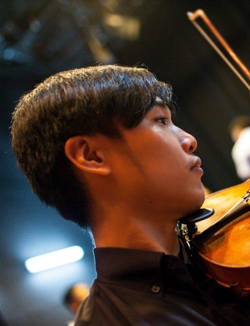 Aldrich Pinso, a native Sabahan, is active in the Malaysian music scene. Many illustrious people in the field, amongst them, Mr. Yap Ling, Madam Malgozata Potocka, Anna Rezniak, Christian Howes, David Früwirth, Professor Michael Edgerton, Orfeo Piano Trio and Mivos String Quartet, have guided him for practical and theory-based training.
As a graduate from the University of Malaya, he continued to engage actively in the Klang Valley music scene and participated in many arts promoting societies such as the Yin Qi Choir, Sime Darby Art Festival, Chopin Malaysia Society and KK Jazz Festival.
Read More
He is also an alumnus from the Malaysian Philharmonic Youth Orchestra and the UK-based English School Orchestra. He has also played in many orchestras such as the National Symphony Orchestra, the RTM orchestra, the Selangor Philharmonic Orchestra, the Penang Philharmonic Orchestra, the China-ASEAN orchestra, the Manila Philharmonic Orchestra, the Brisbane Youth Orchestra and the Australian Youth Orchestra. In addition, he has played in various settings by performing and exploring music from the Western Art music, Catholic madrigal and chant music, Malaysian Traditional music, Jazz, Pop, world music and collaborative artwork.
His passion in music has brought him into under-privileged rural Sabah to provide basic music education. His interest in teaching also granted his student to be accepted into the Malaysian Philharmonic Youth Orchestra. His humble wish to serve has provided him many chances to work closely with artists such as Sheila Majid, A Lin, A Mei, Li Mao Shan, and Vince Chong. Currently, he is finishing his Postgraduate String Quartet study.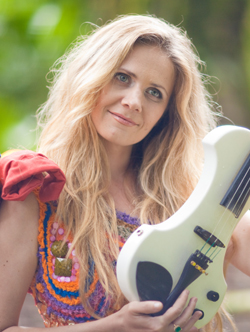 Helga Sedli
Violin, Electric Violin, Viola & Voice
Hungarian born violinist, Helga Sedli graduated on classical violin in Budapest, Hungary at the Bela Bartok Conservatory and graduated from the Szeged University with a degree in Music and Mathematics.
Helga started the violin at the age of 8, showing early promise winning 1st Prize in local competitions in both the violin and vocal categories. With her parents support, Helga continued her music studies at the Conservatory, travelling around Europe in many countries with the Conservatory's symphonic orchestra. She was a member of the 20 voice Victoria Chamber Choir, winning 2nd prize in Italy at the Arezzo International Choir Competition, and at the Conservatory winning 1st prize every year in both instrument and voice category.
Read More
Her essay, 'Paganini – The Devil's Fiddler', won 1st prize at the University for the Science Writing competition, becoming her graduation diploma thesis. After graduation, Helga became the Music teacher at Jedlik Anyos High School in Budapest, and private teacher of several students. In the year of 2010 she joined a classical string quartet based in Jarkata and has been exploring and developing music in South-East Asia ever since.
It was in Jakarta that Helga also developed a new style in her live performances integrating the electric violin with the acoustic violin, and began to explore different styles of music. Performing across Indonesia at assorted festivals Helga has worked with Fariz RM, Katon Bagaskara , jazz artists; Dwiki Dharmawan , Indro Hardjodikoro , Idang Rasidi ; ethnic musicians; Balawan and Ayu Laksmi. Helga has also performed in Singapore, India, Cambodia, and Europe and, in 2015, performed with the famous Australian band , 'Air Supply'.
Helga plays on a five-stringed instrument instead of the usual 4 strings, and owns five different brands of electric violins with which she uses to explore music techniques and improvisation, especially in jazz. Helga is also self-taught on the Chinese, 'Er-hu' and the Cambodian, 'Tro-khmer'.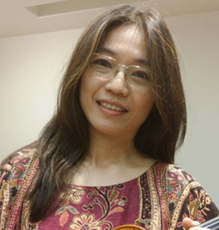 Venus Yeoh holds a Bachelor of Arts with Honours in Music from University Science of Malaysia since 1998 & has numerous years of teaching experience & is highly sought after as a teacher who works well with young children; believing that learning music for young children should be fun & exciting.Indeed her passion is childhood education; she has attended & participated in numerous music conferences, workshops & specialised training for violin, piano & keyboard, employing programs such as Suzuki Method & Harmony Road.
Indeed her passion is childhood education; she has attended & participated in numerous music conferences, workshops & specialised training for violin, piano & keyboard, employing programs such as Suzuki Method & Harmony Road.
Venus is also an accomplished pianist & is experienced in providing aural training for students taking part in ABRSM & Trinity Guildhall Examinations, in particular.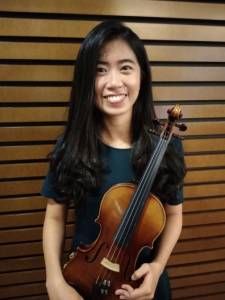 Penang-born Jasmine Cheah started her musical journey by learning the violin at the age of 14, under the tutelage of Ms Neah Yuen Sin (a member of Koschka Ensemble). She completed her ABRSM Grade 8 exam, both practical (2014) & theory (2015).
Jasmine obtained her music degree at University Putra Malaysia in 2016. During her 4 years here, she was under the tutelage of Dr Joanne Yeoh, Dr Andrew Filmer, Mr Lau Yew Han & Ms Mabel Wong. She also had the privilege to take a few masterclasses by Dr Goh Chia-Chien. These amazing tutors have greatly inspired her to teach.
Read More
Besides violin, she also picked up flute & piccolo as her minor instruments during her studies in UPM, under the tutelage of Dr Jennifer Teng & Foo Chie Haur (National Symphony Orchestra Flute Principal). She used to perform with UPM Symphony Orchestra & once served as flute principal. She performed as flute soloist for MH370 Musical Tribute in Putra Idol 2 Grand Final.
Additionally, she has an interest in psychology & spent her internship working with registered music therapist, Ms Cheryl Mow, assisting & co-conducting both individual & group therapy sessions.
Jasmine's teaching philosophy is about making learning fun as she strongly believes that students learn best in a positive & encouraging environment. She also understands that every student is different & tailors her teaching methods according to her students' needs. It is Jasmine's goal as a teacher to help students appreciate the beauty of music & build their character to become better persons.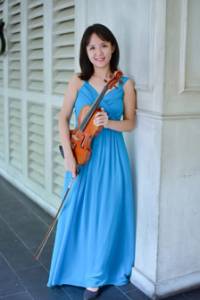 Chow Woei Sim
Viola & Violin
Chow Woei Sim graduated as a scholarship music student at The Birmingham Conservatoire with BMus (Hons), a bachelor degree in viola. She also picked up the violin as her second instrument. She was under the tutelage of Robin Ireland & Dr Louise Lansdown at Birmingham Conservatoire & has performed with The City of Birmingham Symphony Youth Orchestra & The Birmingham Conservatoire Symphony Orchestra under the tutorship of Michael Seal, Daniel Rosina, Ian Volkov & others.
Woei Sim has performed in masterclasses with Marco Van Pagee, Luis Muniz, Thomas Riebl, Simon Rowland-Jones, amongst others via Pro Corda Viola Course & Cadenza Summer Course.
As a member of Malaysia Philharmonic Youth Orchestra under the direction of Kevin Field & tutorship of a few Malaysia Philharmonic Orchestra members – Toko Inomoto, Giovani Pasini, & Gábor Mokány; Woei Sim collaborated with professional musicians such as Mathew Kam, Fritz Renold, Poh Joo Tan & Csaba Körös.
Read More
As a MPO member, her viola skills were further honed under Sherwin Thia, Daniel Trgina & Lin Kern Ong. At MPO, she participated in The Kuala Lumpur String Project.
Outside of the viola & violin, she has had regular piano lessons with Kok Ting Chong & Dr Nicholas Ong.
Woei Sim loves teaching. She is always eager to give her best of her knowledge to her students.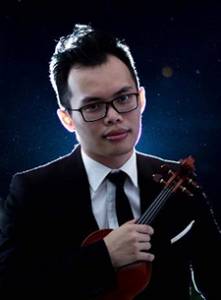 EbenTing started learning the violin at the age of 9. At the age of 16, he attained the Associate Diploma in Violin Recital, with distinction, andfrom the Trinity College of London. He was under the tutelage of Yap Ling, MalgorzataPotocka, Liu Jian, former co-concertmaster of the Malaysian Philharmonic Orchestra (MPO), and Xiaoqing Yu, concertmaster of the Greenville Symphony Orchestra at Lee University (USA).
In 2006, he was successfully selected as a member of the Malaysian Philharmonic Youth Orchestra under the baton of Kevin Field. Since then, he has performed in all the concerts held by MPYO including the national tour in major cities in peninsular Malaysia, Sabah and Sarawak and also in Singapore. In 2010, he was selected as 2nd violin co-principal.
Read More
Being a versatile string player, Ebenalso picked up the viola and in 2011 he was selected as viola principal in MPYO. In December 2011, he was one of the 15 musicians selected from the MPYO to play side by side with the MPO under Claus Peter Flor, principal conductor of the MPO. Besides, he was a founding member of Kuala Lumpur String Project, a string ensemble led by MPO musicians.
Most recently, Ebenhad participated in Brevard Music Center during the summer in 2012 and was under the coaching of Dr. Maria Sampen.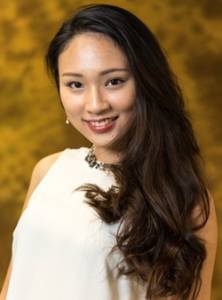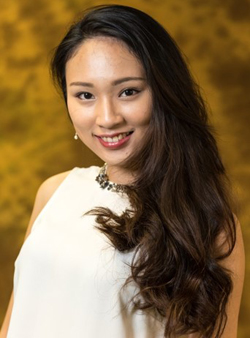 I-Hsuan Peng
Cello & Piano
As a versatile pianist, I-Hsuan has enjoyed performing works ranging from Scarlatti to Beethoven to Messiaen. Equally adept as a Collaborative pianist, she also enjoys chamber music and is often sought after as accompanist for singers, and has given a number of recitals both as a soloist and accompanist during her time in the UK. Recent performances include as a soloist for Mozart Piano Concerto in D Major No.26 K537 with Birmingham Conservatoire Symphony Orchestra in Town hall in Birmingham, as a pianist for Schoenberg's Pierrot Lunaire in the Crescent Theatre for an all-Schoenberg programme and a recital in Emmanuel United Reformed Church in Cambridge.
Read More
I-Hsuan started learning the piano at six and cello when she was ten. She was actively involved as a cellist in the orchestra in Hsin-Ming Junior High School where she was enrolled in the music stream. She went on to complete her Bachelors in the University of Taipei, where she majored in piano under Professor Pei-Chun Liao and with cello as her secondary instrument with Ching-Ling Wan. In 2011, she performed with University's string orchestra in National Concert Hall in Taiwan. I-Hsuan was accepted into Birmingham Conservatoire, studying with Professors Julian Jacobson and Philip Martin, and has completed her Masters in Music with distinction (ISCED level 7), and Advanced Postgraduate Diploma in Professional Performance (ISCED level 8). I-Hsuan has also participated in many competitions, and successes include first prize of piano group in Taiwan Music Competition in Hsinchu (2009), first awards for both piano and cello in National Student Music Competition, and as a candidate of the first round in Brant International Piano Competition(2016,2017).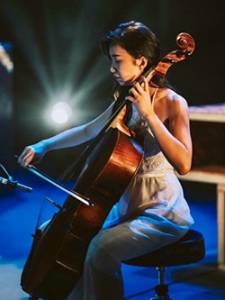 Sophia Ng Min
Cello & Vocal
Sophia received her Master of Music (Performance Teaching) from the Melbourne Conservatorium of Music, University of Melbourne, and her Bachelor of Classical Music (Hons.) from UCSI University as a scholarship recipient, majoring in classical cello, and minoring in classical voice. Her broad interest in different musical styles and genres, and her pursuit of versatility as a musician, has led her to complete a grade 8 RockschoolPopular Vocals exam with distinction and was awarded with the RockstarAward 2016.
Hailing from Penang, the Pearl of the Orient, Sophia has been actively performing in Kuala Lumpur since 2012. Some of the highlights include performing as the lead vocalist of the former jazz-pop fusion band, SKAZZ, and the cellist of the string quartet, Strings Attached Quartet. During her time in Melbourne, she has also sung at the National Gallery of Victoria as a jazz vocal-piano group, Aurore Duet, and was also the cellist and vocalist of jazz octet, BLEUM.
Sophia's teaching experience includes years of one-to-one vocal and instrumental teaching, as well as rehearsing and conducting string ensembles. As a teacher, she strives to provide a student-oriented music learning experience by recognizing that every student is unique and different, and tailors her lessons to fit each individual student. Sophia strongly believes that music education is for everyone across all boundaries.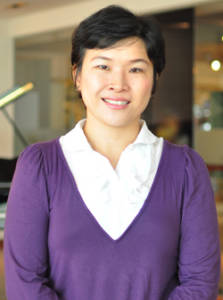 The double bass may not be everyone's first choice of instrument but to Eugenia, it is her passion. She studied under Wolfgang Steike, formerly of the Berlin Philharmonic Orchestra & currently Principal Bass of Malaysian Philharmonic & was the principal double bass of the MPYO herself for many years.
She has also played with the Asian Youth Orchestra & the Malaysian Philharmonic Orchestra as well as the National Symphony Orchestra of Malaysia.
Many of Eugenia's students initially took up double bass as a second instrument & many, particularly pianists who have limited performance opportunities, continue to do so. It is much easier to master than the violin & is an instrument easily at home with jazz as well as on the classical stage.
She currently teaches double bass at UiTM as well as Bentley Music Academy.