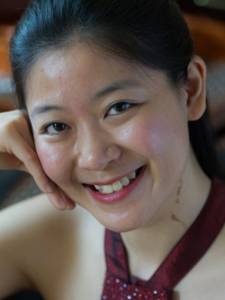 SYLVIA LOH received the first feather in her musical cap in 1994, when she was awarded a prize for being the youngest finalist at the International Piano Competition in the Czech Republic. This was followed shortly after by an appearance at the "Bravo Bravissimo" concert in Milan, Italy. Her subsequent achievements in the competition arena went on to include her emergence as a prize winner at the 1st ASEAN International Chopin Piano Competition in Kuala Lumpur and the 5th Arthur Lepthien Piano Competition in Germany, as well as a finalist at the 3rd Seiler International Piano Competition in Germany, and the 10th EPTA International Piano Competition in Belgium.
Being described as "a sensitive pianist with refined sound and emotional depth" by the Badische Zeitung, Sylvia has gained recognition on the international stage and performed in numerous concerts in Malaysia, Italy, China and Germany. As a soloist, she has collaborated with orchestras at home and abroad; namely the National Symphony Orchestra, with whom she made her orchestral debut in 1998; the Melbourne School Orchestra, the Freiburg University Orchestra and the Russian Chamber Philharmonic St. Petersburg, with whom she performed at the "Rising Stars!" Festival in Karlsruhe, Germany.
Born in 1987, Sylvia started her professional piano education under the tutelage of Prof. Snezana Panovska. She later went on to study with Ng Chong Lim and drew inspiration from masterclasses by renowned pianists such as Vitaly Margulis, Jacques Rouvier, Piotr Paleczny, Kirill Gerstein, Anatol Ugorski and Dan Zhaoyi.
As a recipient of the HSBC Classics Bursary Award, Sylvia received her Master's degree from the University of Music Freiburg, Germany, where she further completed Solistenexamen – the highest attainable degree in Germany. Sylvia studied with Prof. Elza Kolodin from 2005-2014, during which she was engaged as her professor's assistant at the University and worked closely with students ranging from pre-university to postgraduate courses.