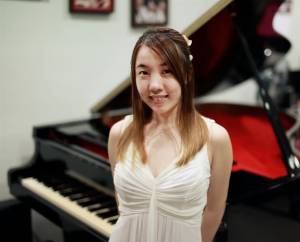 Melanie Wong claimed 'The Mansel Thomas Memorial Award for Music' for her outstanding performance as an accompanist, and also won 'The Cardiff Violins Prize for Chamber Ensembles' with Iris Piano Trio; both awarded by RWCMD in 2016. She is a Master's Degree Holder of Royal Welsh College of Music and Drama (RWCMD), UK; specializing in Piano Accompaniment under the tutelage of Benjamin Frith (Pianist of Gould Piano Trio), Catherine Milledge and Michael Pollock.
Melanie has almost 10 years of teaching experience. During her time in UK, she was a freelance piano teacher in Lordswood Girl School (Birmingham) and Vale School of Music (Cardiff). She has rich experience as a chamber musician and also a choir pianist. She was actively involved in performance and masterclass as piano trio, accompanist, and choir pianist around UK such as London, Watford, Marlow, Cardiff, and Birmingham.
In year 2013, Melanie completed her Bachelor's Degree (Honours) in Piano Performance from UCSI University-Institute of Music, and was awarded 2 Certificates of Academic Excellence by Dean's Award. At age of 20, she held a Certificate of Excellence from Trinity Arts Award for ATCL, and received her LTCL certificate years later. She was a finalist in the Classical Piano Duet Category in Roland Piano Festival 2010.