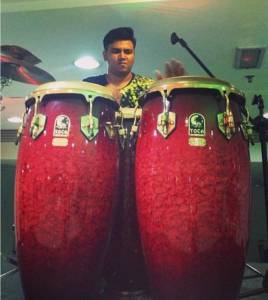 Nazreen Shah
Available :

Monday, Tuesday, Wednesday, Thursday, Friday & Sunday
Standard :

Drums & Percussion
Lessons via :

Face-to-face & Online
Nazreen Shah studied at University Technology Mara ( UiTM ) graduating with a Degree in Music Performance (Hons) Drum/Percussion. Active as a freelance performer and tutor , Nazreen has performed with many leading Malaysian artists, such as Noraniza Idris, Ronnie Hussin, Gmie Screen, Ramli Sarip, Zur Eda and many more.
Nazreen has also appeared in several television program and recordings such as Mentor, Anugerah Seri Angkasa Rtm, Rentak Juara RTM, Showdown, Nasi Lemak Kopi O, Malaysia Hari Ini and many more.
Nazreen is founder Banana Cheese Percussion, a currently active percussion group in Malaysia.
Abdul Karim
Standard :

Drums, Latin Percussion & Hand Percussion
AKZ delivers high intensity and energetic musicianship in all his performances. An ambassador of Malaysian music and percussion, at the tender age of 25, AKZ has performed and conducted workshops at numerous international festivals and tours such as Rainforest World Music Festival (Sarawak, Malaysia), SacheonInternational Percussion Festival (Korea), Caravanserai Tour (United States of America), ASEAN Youth Jazz Orchestra (Japan and South East Asia). AKZ has also conducted classes for kindergarten such as Jasmine Playschool Kuala Lumpur and conducted a drums and percussion special needs program for PusatKanak-Kanak TengkuBainun(2014-2016).
Read More
A popular up and coming first call as a percussionist, he has contributed, recorded and worked with many of Malaysia music industry names and artist such as Dr.Pacai, SalamiahHassan, Sean Ghazi, LokU, AizatAmdan, Amir Jahari, Imran Ajmain, TalithaTan, AG Coco, Audi Mok, Pak Ngah, Istana BudayaTraditional Orchestra, Radio Television Malaysia to name a few and International artist such as Osamu Matsumoto (Japan), Mariko Maeda (Japan), Takumi Nakayama (Japan), OppsPig Pale Ale Inc(Japan) and Bass G (Indonesia)
He is also apart of other projects and bands such as The Diplomats of Drums, Stomp The Rhythm, FaliqAuriTrio, Mutesite, Tarakucha!, HadyAfro Band, Amir JahariProject, Leaismand Royal HaqqaniMaulidEnsemble.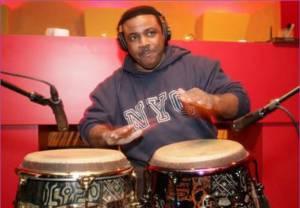 Steve Thornton
Master :

Percussion
Born in and raised in Brooklyn, New York, Steve is the second youngest of fourteen children. At the tender age of seven, Steve heard Mongo Santamaria playing Herbie Hancock's "Watermelon Man". He was so inspired by the legendary drummer that he taught himself to play the congas by listening to the album over and over again.
In 1968, Steve formed his first group, THE YOUNG EXPLOSIVES, a 4 piece Latin-jazz ensemble. They performed on local television station Channel 5's "Inside Bedford-Stuyvesant" and appeared in school talent shows and at the Appollo Theatre.
Read More
In 1969, Steve met Mongo Santamaria at Club Beacon on 111 Street and Lennox Avenue. When he told Mongo how much he admired him, Mongo challenged Steve to play congas with his band. When fifteen year old Steve started wailing away on three congas, Mongo got so excited he sat with him and they played out the entire set together. For Steve, it was a dream come true.
Throughout high school, Steve performed with his band and recorded salsa with other local bands, but his first professional appearance was with Jon Lucien's 1972 national tour. Since that auspicious beginning, Steve has played non-stop with some of the best in the business. He played for the Brazilian band of pianist Dom Salvador and percussionist Dom Um Romaoand than went on to become the conga player for Harry Belafonte. He worked for Harry for four years, appearing on his record, T.V. shows and tours.
Norman Connors introduced Steve to jazz. Never one to set still, Steve has since performed live and made recordings with some of the most well-known jazz artist in the world, including Miles Davis, Dizzy Gillespie, Roy Ayers, Grover Washington Jr., McCoy Tyner, Herbie Hancock, SadaoWatanabe, Tania Maria and David Sanborn.
Latin, Jazz, R&B, Brazilian and African music have all felt the magic of Steve's touch. They have also deeply influenced him. Steve is now arranging, composing and producing his own blend of music, incorporating and expanding on everything he has learned in his musical sojourn. His rich, multi-layered music has a unique sound, backed by the most contagious, uplifting beats to which you'll ever move your feet.
In Malaysia Steve Thornton has produced shows for NTV 7 and has performed and recorded for such artist as SitiNurhaliza, Raihan, Zainal Abidin, RoslanAziz, Sheila Majid , Fish Leong and many more.