Guitar 
Instruments : Electric Guitar, Acoustic Guitar, Classical Guitar, Electric Bass, Ukulele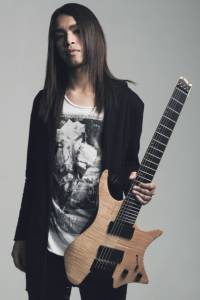 Adil Rahim
Available :

Friday, Saturday & Sunday
Standard :

Classical Guitar
Senior :

Electric Guitar, Acoustic Guitar, Electric Bass & Ukulele
Lessons via :

Face2Face & Online
Adil has been teaching and performing a variety of guitars from classical, acoustic, electric, ukulele, and bass guitar for nearly 10 years; teaching students from absolute beginners to diploma standard for the Rockschool syllabus. In 2016 Adil was awarded the Top Teacher Award in BMA.
Adil has amassed experience in music production both in the recording studio and theatre. In 2014 he was awarded 2nd place for the Indi.com Bumblefoot Guitar Challenge, playing Chopin's, Fantaisie Impromptu, and also performed with Bumblefoot (Guns N Roses/ Art of Anarchy) in Kuala Lumpur. He has also appeared as opening act for Ibanez Artists Kiko Louriero and Tosin Abasi, as well as Korean pop rock band, CNBLUE.
Adil has recenty released a solo album featuring guest musicians Adam Rafowitz, (Arch Echo) Adam Bentley (Arch Echo) Tom Monda (Thank You Scientist) Diego Tejeida, and Conner Green (HAKEN), Bumblefoot (Sons of Apollo/Guns and Roses) and Luke Martin (Plini).  He is also now an endorsee for Strandberg Guitars under their Associate Artist Program.
Read More
In 2015 he attended the world renowned Freak Guitar Camp, in Sweden, where he studied South Indian Music, and has been a student of Tom Monda (Thank-You Scientist) for a number of years.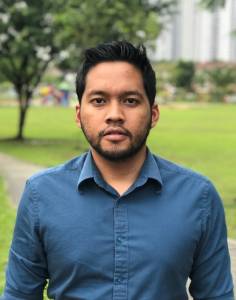 Fadley Fauzi
Available :

Thursday & Saturday
Senior :

Acoustic Guitar, Classical Guitar, Electric Guitar, Electric Bass & Ukulele
Lessons via :

Face2Face & Online
Fadley is one of our long-term teachers at Bentley Music Academy. He completed his studies at UiTM Shah Alam, Selangor, Malaysia in 2010 graduating with a Diploma In Music.
Whilst there, he studied under Mr Ridza Mubarak and Chua May Ling (our former Head of Classical Guitar), having built up an impressive classical guitar repertoire ranging from Bach to Tarrega throughout his course.
Fadley is a freelance performer and teacher. He is among the teachers who are certified to teach for several guitar types, ranging from classical, acoustic, electric, bass and even ukulele. He has been teaching professionally for more than 8 years.  Fadley is a teacher who is well respected for his passion and effective teaching methods. Among his recent teaching achievements is landing his students a spot in the ABRSM High Scorer's list for 'distinctive playing'.
Read More
Fadley  teaches a variety of guitar at Bentley Music Academy and is committed to continuing to build his reputation as a recitalist, passing his skills and sharing experience with his students.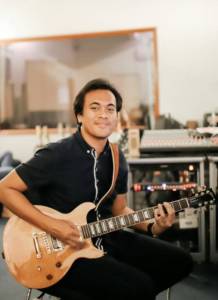 Afiq Faudzi
Available :

Wednesday, Thursday, Friday, Saturday & Sunday
Senior :

Acoustic Guitar, Electric Guitar, Ukulele & Electric Bass
Lessons via :

Face2Face & Online
Afiq Faudzi is a full-time musician working free-lance as a guitarist as well as composer. Afiq is a Bachelor's Degree graduate, majoring in performance, from Akademi Seni Warisan dan Budaya Kebangsaan (ASWARA). He is among the few graduates who excelled in his performances and was honoured with the Award for Best Performance for his final project (PETA).
Performing regularly with a number of artists with Kartel Productions including; Joe Flizzow, Altimet, SonaOne, Ila Damia and Balan Kashmir, Afiq is also active performing with his own band and often called to perform for local events and music festivals. He is also a music producer at Paradoxe Productions and is known for his work with jingles and music programming.
Afiq has been actively teaching guitar, from electric, acoustic, bass and ukulele since 2006 with the genre focus on Pop, Rock, Blues and RnB music.
Read More
At Bentley Music Academy, Afiq is known to be a teacher who provides his students with not only the theoretical knowledge and practical skills, but also encouraging his students to actively perform as he has firm believe that one is not a truly skilled musician if one is not able to perform well. Through his lessons, Afiq inspires students with his principle that "Music is not to be learnt for the sake of a number on a score sheet or kept hidden to oneself at the corner of one's room. Music should be shared for the enjoyment of oneself and others".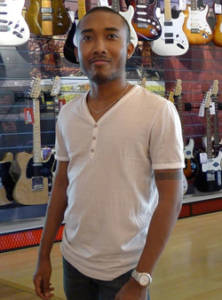 Momo Sanchez
Available :

Sunday
Standard :

Acoustic Guitar, Classical Guitar, Electric Guitar, Electric Bass & Ukulele
Lessons via :

Face2Face & Online
Originally from Penang & now based in Kuala Lumpur, Momo had been through a series of musical epiphanies & transformations from Pop, Rock, Heavy Metal & is currently a dedicated Jazz musician & composer. Being naturally dexterous & fluid in his ability to improvise, he is becoming noted as an upcoming Jazz guitarist. Momo graduated from MARA University of Technology with a Diploma majoring in Guitar Performance & with a Bachelor degree in Music Composition.
Momo is an all-round guitar professional & he is equally at home in Classical, Acoustic & Rock. He is also skilled in composition, modern harmony & Jazz theory. As a Jazz enthusiast, he has developed a deep connection with contemporary music & integrates his own style with multiple genres & styles ranging from Bach, Chopin, Debussy & John Coltrane.
Stephen Borgovini
Available : 

Wednesday, Friday & Saturday
Standard :

Acoustic Guitar
Senior :

Drums
Lessons via :

Face2Face & Online
Stephen Borgovini is an international major label (EMI, Capitol, Virgin Records) platinum recording artist from New York City. He had been involved in the NYC music industry since 1993. He started playing drums at the early age of 12.
He has outstanding credentials in performance, production & recording. Stephen has toured the world with his band, FLC & has written & produced Top 10 hit songs in Great Britain & throughout Europe.
While on tour he had the good fortune to merge musical ideas from artists such as Dave Grohl & Butch Vig (Nirvana, Foo Fighters) Beck, U2, Stephen Perkins (Jane's Addiction, Porno for Pyros) & Frank Briggs (Mel Bay Publications).
Stephen brings a groove that's essential for Pop, Rock, Hip Hop, Funk, Blues & Jazz. He believes music is an art form & makes learning fun. "I've reached a place where I realize how important & gratifying it is to give back. I'm happy to be given the opportunity to do that, here at BMA."
Efry Arwis
Standard :

Electric Bass
Efry Arwis started out playing music by picking up the guitar "just for the fun of it" at the age of 12 having been influenced by the likes of Kurt Cobain. He graduated in 2008 from MMU Cyberjaya witha Bachelor of Multimedia (Honours) in Digital Media in 2008, going on to study at UiTM where he graduated with Bachelor of Music (Honours) in Music Performance. Efry has since become one of the most sought-after bassist in the country.
Efry began recording for his first band, 'Lightcraft' around 2005 and finally got his big break in 2007 when Yuna recruited him as her bassist. He is an active session bass player for artists such Diandra Arjunaidi, Salammusik, Hazama, Monoloque, Daiyan Trisha, Aisyah Aziz, Elizabeth Tan, Ayda Jebat, Narmi, Mohram, Amni Musfirah, Awi Rafael, AG & Co and Tengku Adil among others.
Read More
He is also presently doing session work with Shah Slam, Faizal Uzir, Johan John, Loque, Farihin Abdul Fattah, Yasin Sulaiman, Omar K, Hang Dimas, AG Coco, Genervie Kam, DJ Fuzz, Adeep Nahar, Taja Mustafa, Reza Ramsey and other influential music directors and producers in the local industry. Besides performing he is currently pursuing his dream as Music Producer and Music Arranger.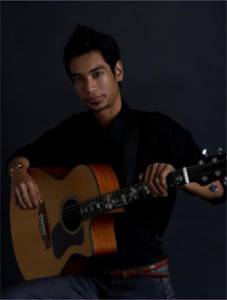 Raafik Iskandar
Available : 

Monday, Tuesday, Wednesday, Thursday, Friday & Saturday
Standard :

Contemporary Vocal, Acoustic Guitar & Ukulele
Lessons via :

Face2Face & Online
Raafik Iskandar has over twenty years of music experience. Born and raised in Singapore Rafik graduated from Lasalle SIA College of the Arts in Singapore.Teaching mainly Vocals and Guitars he also plays Guzhen, Gamelanand Pipa. Raafik is passionate about music training and has experience in teaching at major music schools in Singapore being attached to the AMIS Ministry of Education (MOE)to schools such as Tanjong Katong Girls School, Hwa Chong International,Anglo Chinese School as well as theInstitute Technical Education (ITE). In 2012 Raafik was called into teach atone of the largest corporation in Singapore-Temasek Holdings. A corporation where the wife of the Prime Minister of Singapore is working to this present day.
Read More
With his experience in teaching students from different age groups, Raafik is able to communicate well with students of different age groups and background. He also performed in various stages and clubs in Singaporeas well as the Esplanade and Suria TV channel. As a popular singer andguitar player, he was featured in Expat Living magazine in 2008. Raafik is happy to help the students to sing and play any specific song they wanted to learn depending on the level of expertise required.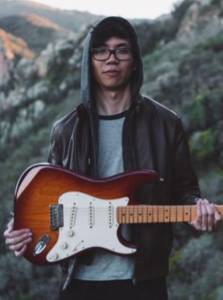 Mark Lee
Available :

Tuesday, Thursday & Friday
Standard :

Acoustic Guitar & Electric Guitar
Lessons via :

Face2Face & Online
Aged seven, Mark had formal piano lessons and at 15, he picked up the guitar.
In 2013, Mark enrolled into International College of Music, Malaysia, where he was exposed to a great deal of fusion and jazz. From then on, it became a lifelong goal for him to expand his improvisational harmonic vocabulary. A trip to Java Jazz in 2014 solidified his interest in the fusion and jazz genre after watching iconic projects play such as Snarky Puppy, Dirty Loops, and Robert Glasper.
Mark went to study at Berklee College of Music in 2015, and was exposed at an even wider platform by students all over the world. Apart from doing jazz, Mark has also developed confidence in various musical genres such as Pop, RnB and Funk. As a guitarist who constantly shows eagerness to hone his craft, he pushes his boundaries by playing with different bands of different styles to develop his versatility. Mark's determination and focus in becoming a better musician keeps him in the good path ahead.
Read More
Mark graduated from Berklee College of Music with a Bachelor's Degree in Performance in 2017. Following his graduation, he moved to Los Angeles and whilst he was there, he performed at the Palm Springs Fashion Week 2018 and the iconic Hotel Café, and the Wine Bar Long Beach and gained valuable teaching at Greenwoods Summer Camp while he was in America.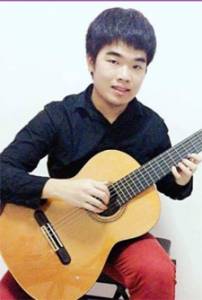 Hong Kai Wen
Available :

Monday, Tuesday, Wednesday, Friday & Saturday
Standard :

Classical Guitar & Ukulele
Lessons via :

Face2Face & Online
Hong Kai Wen is born and raised in Johor Bahru, Malaysia. He started learning classical guitar at the age of 15. He graduated from Malaysian Institute of Art (MIA) with classical guitar performance major under tutelage of Ms. Hong Tee. He has obtained Licentiate Diploma of Trinity College London (LTCL) and Associate Diploma of Trinity College London (ATCL) in classical guitar performance. He actively takes part in various music festivals and competitions, including TarregaInternational Guitar Competition 2014, Malaysia Classical Guitar Competition 2015, PhilharmonikerClassical Guitar Festival Johor 2016, and MIA Young Musician Competition 2019. He was awarded with Silver Prize in Malaysia Classical Guitar Competition 2015, and MIA Young Musician Competition 2019. He was also one of the six finalist for PhilharmonikerClassical Guitar Festival Johor 2016.
Read More
Besides receiving tutelage from Ms. Hong Tee, one of the leading classical guitarists in Malaysia, Kai Wen also took masterclass with some of the renowned guitarists, such as Dr.NathanFischer (USA), GrigoryNovikov(Russia),ÖgmundurÞórJóhannesson(Iceland) and Alfredo Huang (Taiwan).
As a freelance musician, he often performs at music concert or private events, as solo guitarist as well as in form of guitar ensemble. He was invited to perform in Love.Musiccharity concert led by Ms.HongTee for year 2018 and 2019 that took place in two cities in Malaysia, in which he performed works by Albeniz and Piazzolla.
After graduated from MIA, he began working as a full time guitar tutor as the first step to realize his vision -to nurture a young generation of classical guitarists. He understand the fact that the public was not aware of such a genre for guitar playing, thus he is working hard to promote classical guitar by providing quality music education. He has been teaching professionally for 7 years, and has experience teaching individual lesson for all age range as well as group lesson. Besides music, he is also an art enthusiast and also into art history. He believes the ability to appreciate art and music is essential to all of us.