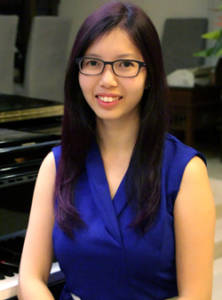 Phen Ee Ching
Available :

Monday, Tuesday, Wednesday, Friday & Saturday
Senior :

Classical Piano, Theory & 'Early Years' Specialist
Lessons via :

Face2Face & Online
As a native of Penang, and now based in Kuala Lumpur, Ee Ching studied in Trinity College during her early years in Melbourne, Australia. She was an active band member in her college as a percussionist and flautist. She then pursued her Bachelor degree in classical music at UCSI University under the tutelage of Dr. Lim Pei Sien, Dr. Christine Tan and Ms Carolyn Lo for her major in piano. For flute, she was under the tutelage of Mr Ho Chee Kiang. Under the external examining and accrediting board, The Royal College of Music equivalence of a degree program, her LTCL piano performance scored a distinction.
Aside from playing piano, Ee Ching also participated actively in UCSI's chamber choir where she and her choir won the gold medal in Orientale Concentus IV in Taiwan. Ee Ching then completed her Masters of Music (Performance & Pedagogy) at Birmingham Conservatoire, UK. Whilst in UK, Ee Ching studied under renowned performers – Victor Sangiorgio, Simon Nicholls and Katherine Lam.
Read More
She also performed in master classes conducted by William Fung and Peter Donohoe. While studying in the UK, Ee Ching had the opportunity to teach in local schools from Key Stage 1 to 4, gaining tremendous amount of knowledge, experience and cultural diversity. She also had the privilege to work with other senior experienced teachers to teach students with special needs, preparing students for their examinations and performances in the UK.
Ee Ching also attained MusikGarten certification which specializes in child development especially areas in language development, self-expression, memory skills, concentration, social interaction, fine motor skills, listening, problem solving, teamwork, goal setting, and coordination are all impacted by early music and movement education which in turn impacting children's growth especially in regard family bonding. MusikGarten is a fun learning environment that provides a holistic learning experience.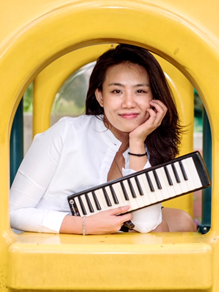 Grace Cho HeeWon
Available :

Monday, Wednesday, Saturday & Sunday
Standard :

Contemporary Piano
Group :

MusikGarten
Lessons via :

Face2Face & Online
Grace Cho HeeWon is a multi-talented and passionate musician who co-founded the band 'FAZZ', a 6-piece band, for whom she composes and performs original songs in local and international music festivals, including Tokyo International Music Market, Haneda International Anime Festival in Japan, Urbanscapes and Penang Island Jazz Festival in Malaysia.
With 'FAZZ',   Grace has won various local competitions, including First Prize in Sonica Song Composing Competition and a winning performance in Malaysia Diamond in the Rough, and runner up for Singapore Coliseum Jam Band Competition.
Grace has over ten years of experience in teaching both classical and contemporary music for children and adults of all abilities. Her passion in teaching lies heavily in developing interest and appreciation of music among students.
Read More
Apart from her classical and pop background, she has always found a great interest in playing different instruments to help understand the sound and translate them into music. Her empathetic nature towards music comes from various culture and environment by living in overseas for nearly 18 years.
Previously Grace worked as a creative director at DurianASEAN, an online radio station, where she hosted and interviewed various musicians and entrepreneurs in entertainment industry. Later she co-founded a 'start-up' company, Hidden Asia – a digital media company bringing unique and powerful stories to a wider Asian audience.
Grace also co-directed a refugee documentary "Selfie With The Prime Minister", which was the film grant winner at FreedomFilmFest 2017. The film was screened in various places in Malaysia, Singapore, Berlin, California, Bosnia and Australia. Her feature documentary "Selfie To Freedom" was selected for Crossing Borders 2017 by European Documentary Network.