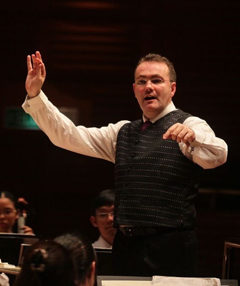 Kevin Field
Available :

Wednesday, Thursday, Friday, Saturday & Sunday
Director :

Percussion, Conducting & Theory
Lessons via :

Face2Face & Online
Kevin Field is truly a man of many talents. With over 25 years of experience & expertise spanning continents & garnering numerous awards & accolades along the way.
Kevin is an international conductor & was the Sub-Principal Percussionist with Bournemouth Symphony Orchestra, UK's oldest & most established provincial professional orchestra.
Kevin was a student at London's Royal Academy of Music when American conductor Andrew Litton appointed him to the BSO, with whom he toured USA twice, Europe on numerous occasions, recorded hundreds of CDs & performed more than 1,200 concerts over a nine-year period.
As drummer, percussionist, composer & conductor, Kevin's performing pedigree covers rock, swing & orchestral music. Performing in big bands & orchestras since the age of 11, Kevin studied timpani & percussion at Birmingham School of Music. Here, as a first year student, he performed with City of Birmingham Symphony Orchestra making his professional debut with Simon Rattle conducting, all before graduating from Royal Academy of Music with Honours.
Read More
On joining the Bournemouth Symphony Orchestra, he established 'Kokoro' – the contemporary music ensemble of the BSO.
Kevin later went to work with the Ballet Rambert, Saddlers Wells Royal Ballet, The Orchestra of the Bolshoi Theatre & the Royal Philharmonic Orchestra.
From 1999 to 2014 Kevin was Associate Conductor with the Malaysian Philharmonic Orchestra where he worked with world-class soloists in a variety of jazz, contemporary and mainstream inspired projects. With the MPO, Kevin commissioned Malaysian composers Tazul Tajjudin, Sunetra Fernando, Muriz Che Rose, Adeline Wong & Jyotsna Prakash. He has premiered over 200 international works in Malaysia by living composers; accompanied music legends Siti Nurhaliza & Sheila Majid, formed both the Malaysian Philharmonic Youth Orchestra & MPO Forum for Malaysian Composers, winning many awards & accolades.
As a conductor, Kevin has directed the BBC Symphony & Australia Chamber Orchestra together with the MPO; National Symphony Orchestra of Ireland, Opera North (UK), Royal Liverpool Philharmonic Orchestra, West Australian, Melbourne & Tasmanian Symphony Orchestras.
He has worked with leading international artists, among them: jazz duo Chick Corea & Gary Burton; bandonian player Daniel Binelli; violinist Leonidas Kavakos; pianist Peter Donohoe; Kodo drummer Eitetsu Hayashi & Chinese opera specialist Shu-Cheen Yu.
Kevin believes in "quality music education for all". It is this ethos that Kevin has been sharing with his students, through Bentley Music Academy, since 1999.
Kevin leads the orchestras at BMA as well as The Conductor's Circle, Field's Forum, individual teaching in orchestra percussion as well as classes in Music Appreciation, Composition and Orchestrations.
Jebat Kee
Available :

Monday, Tuesday, Wednesday, Thursday, Friday, Saturday & Sunday
Senior : Violin,

Viola & Conducting
Group :

BMA Chamber Music
Lessons via :

Face2Face & Online
Jebat is a musician whose activities have brought him across the globe. Most recently, he has been under the mentorship of Marin Alsop at the Peabody Conservatory, where he served as Assistant Conductor and Chorus Master of the Peabody Opera Theatre. Jebat was a semifinalist at the European Union and Makris Conducting Competitions, and was selected as a Britten-Pears Young Artist. Orchestras he has conducted in master classes and competitions include the National Symphony (Washington D.C.), Charleston Symphony, String Orchestra of Brooklyn, Pazardzhik Symphony, and Makris Symphony. Jebat has served as Music Director and Conductor of the University of Illinois Philharmonia Orchestra. Jebat has collaborated with soloists and composers such as Dmitry Kouzov, Jonathan Keeble, Ann Yeung, Carlos Carrillo and David Kirkland Garner.
Read More
An accomplished violist, Jebat has performed with orchestras such as the Malaysian Philharmonic, Charleston Symphony, New York String Orchestra and YouTube Symphony Orchestra. Active in chamber music, Jebat has collaborated with artists such as Jon Kimura Parker, Mikhail Kopelman, Kathleen Winkler and Thomas Jaber. Jebat was Principal Viola of KINETIC Ensemble, and a recipient of the Celentano Award for Excellence in Chamber Music. Jebat's summer festival appearances include Tanglewood, Schleswig-Holstein, Pacific, Spoleto USA, Aspen, Lake George and Caroga Lake. An advocate for the performance of new music, Jebat has performed with ensembles such as Musiqa, Da Camera, and Loop38.
Jebat holds a Master's in Orchestral Conducting from the University of Illinois Urbana-Champaign. His former teachers include Donald Schleicher, Larry Rachleff, and Brad Lubman, and he has also participated in master classes with Gianandrea Noseda, Osmo Vanska, Nicolas Pasquet, Mark Gibson and Tito Munoz. Jebat also has degrees in Viola Performance from Rice University and the Eastman School of Music, having studied with James Dunham and Carol Rodland. He has taught master classes in conducting, viola, chamber music and orchestra with the East Central Illinois Youth Orchestra, Illinois Chamber Music Academy, Selangor Philharmonic, Bentley Music Academy, and Allegro Music and Arts.